As an avid brook trout angler there are certain destinations that provoke the imagination. Minipi in Labrador, the brawling God's River in northern Manitoba, Nipigon without a doubt, and the Sutton River in far northern Ontario. To be sure there are places where you can catch larger brook trout, but for sheer numbers of honest to goodness 3-5lb fish the Sutton can't be topped.

The river begins in Hawley Lake its spring fed headwaters, and flows north 120km through Polar Bear Provincial Park terminating at Hudsons Bay. Dissecting the summer range of the great white bears, the river flows through a geologic fault of old seabed limestone providing incredibly fertile waters for the insect life and the trout that feed on them. The terrain is quite flat, consisting of muskeg and broken areas of black spruce with many interspersed pothole lakes and marsh. As you paddle north the trees which cling tenaciously to the riverbank begin to recede and you're left with vast panoramas of muskeg tundra.

What sets the Sutton apart from all others is its nature itself. The river meanders its entire length with no real rapids but with hundreds of wadeable riffles, runs and pools that are chuck full of brook trout in the 18-24 inch range. The entire trip from headwaters to Bay there is not one single portage. It's essentially an overgrown limestone stream, and that my friends is worth the price of admission in itself.

Recently Bill and I spent 11 days paddling the entire length of this fool's paradise.

This is our story...

Day One
After spending the night before at a motel in Hearst we arrived refreshed at the Hearst Air base on Carrey Lake just west of town at 6:30am.
Greeted with a picture perfect sunrise, it was an ideal day to fly.
The flight was uneventful but interesting as a landscape of lakes and rivers soon gave way to vast stretches of swampy muskeg as we winged our way further north.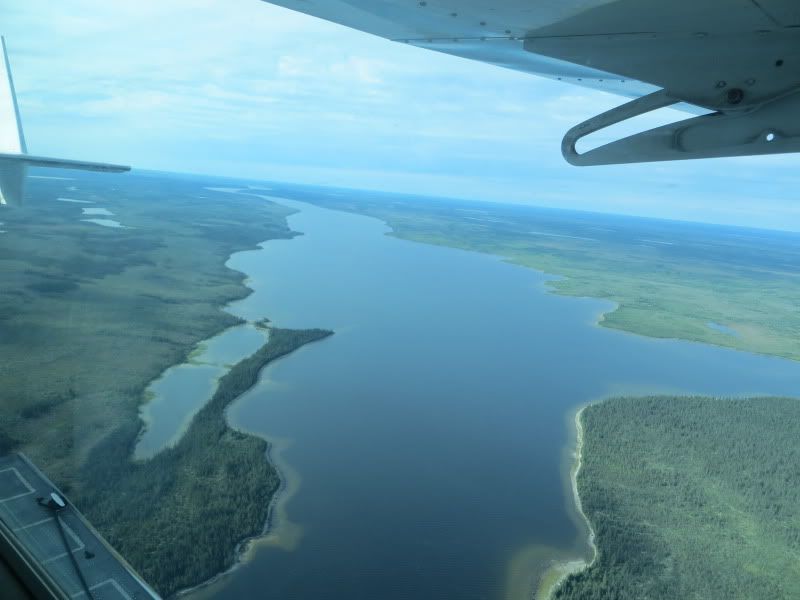 Our destination was Albert's Fish Camp on Hawley Lake. Albert Chookomoolin is a native Cree who was born on Hawley and has lived there every summer for his entire life. Most anglers who fish the Sutton do so out of Alberts camp travelling down the river a piece then back up in oversized freighter canoes and outboard motors. A civilized proposition which perhaps one day I'll do when constrained by age.
After a 21/2 hour flight we arrived at Albert's, a somewhat tired and forlorn location, and were soon engaged in unloading our gear from the plane. Hearst Air provided us with a 17' Old Town Royalex canoe for our trip and we very quickly had it loaded. Our pilot Mike Veilleux watched with mild amazement as we carefully fit every ounce of our 400lb load into the craft. With no portaging we definitely hadn't packed light and he waited 'till we were finished before winging his way south. As he said "Whatever you can't fit safely in the boat I'll fly back to the base for you". Fortunately we were okay, although our center of gravity was about a foot above the gunnels. Still with no really dangerous water ahead of us we weren't concerned. Comfort was paramount.
As we were ready to depart Albert approached us with an offer. He'd been eyeing our food barrels with keen interest and offered to tow us to the first rapids 12km's downstream if he could keep them at the end of our trip.
That as far as we were concerned was a huge bonus as the initial part of the river was quite featureless. We had to drop the canoe off at Alberts on the way back anyway so we shook hands and the deal was done.
With glee we hopped into Alberts freighter. He tied our laden canoe in tow and we were off, our journey had finally begun!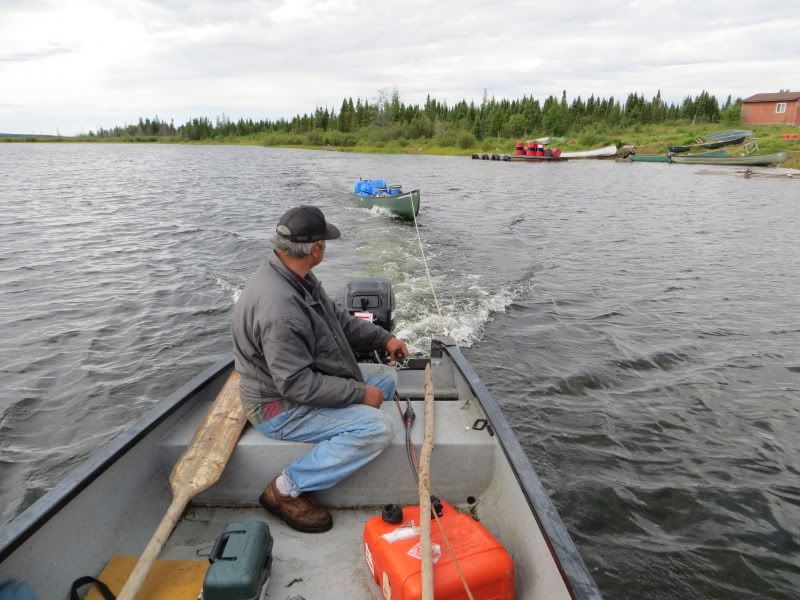 Heading downstream we were amazed at two things: the clarity of water and the amount of lush weed growth. According to Albert there were no weeds in the river as a young child. Slowly over the years as the climate has warmed the weeds have grown in. A truly scary and first hand testament to the effects of global warming.
As we skimmed quickly across the vast weed flats every so often a large stretch of clear pea gravel would appear. In every case occupied by enormous schools of brook trout, many of which appeared to be over 4lb's. They scattered like leaves in a gale as we passed overhead and Bill and I were dumbfounded.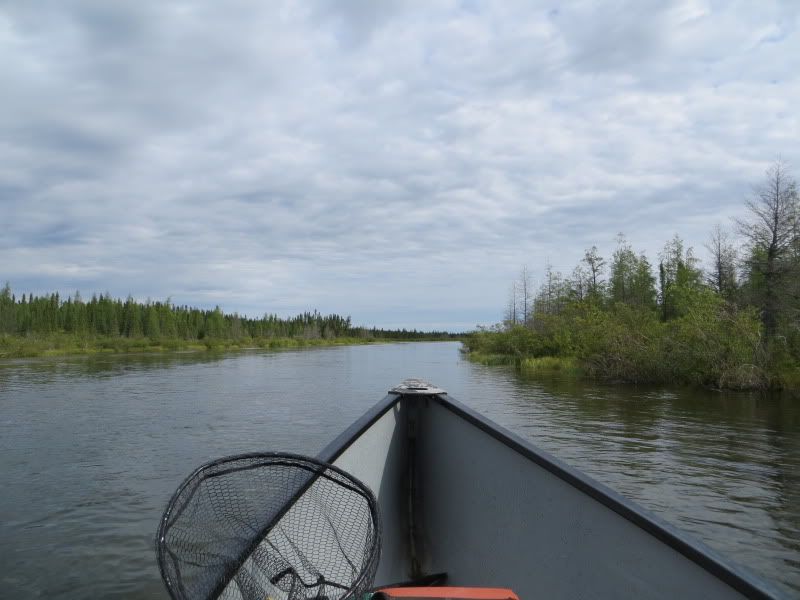 Our excitement level grew as we approached the first rapids and our drop off point. Stopping at a marshy flat about 1/2km upstream from the first riffle Albert filled two water jugs for the camp then in a low musical voice said "The best water is downstream, lots more fish down there. Good luck and try to avoid the bears." The part about the bears went right over our heads, although in retrospect perhaps we should have listened. We were focused squarely on brook trout and we had finally arrived.
Quickly donning our waders we gave Albert a wave and we were off paddling our way down through a series of mild riffles and quickly getting a feel for our overloaded canoe in the process. It was far more agile than I had anticipated and thankfully not nearly as tippy.
It was still early in the day with plenty of time to fish so we wasted no time pulling over to shore along an enticing run.
My first fish on the Sutton was a memorable one. Casting a heavy spinner far out into the powerful current it hit almost immediately then took me on a run several hundred yards downstream before finally being subdued. It was a thick bodied brightly colored male that had me awestruck.
The fish came almost ridiculously easy and after sating our angling appetite we headed downstream slowly fishing likely looking spots and keeping an eye out for campsites.
Approaching a bend in the river our home for the first night was instantly obvious. Perched on a high bank on the outside of the bend it was a well used site that overlooked the river. A perfect flat spot for the tent, a fire ring with a good supply of dry wood nearby and an eye popping hole that just screamed trout right in front of us.
We quickly set up camp then set about to fish the pool. Not unexpectedly the water was rife with fish.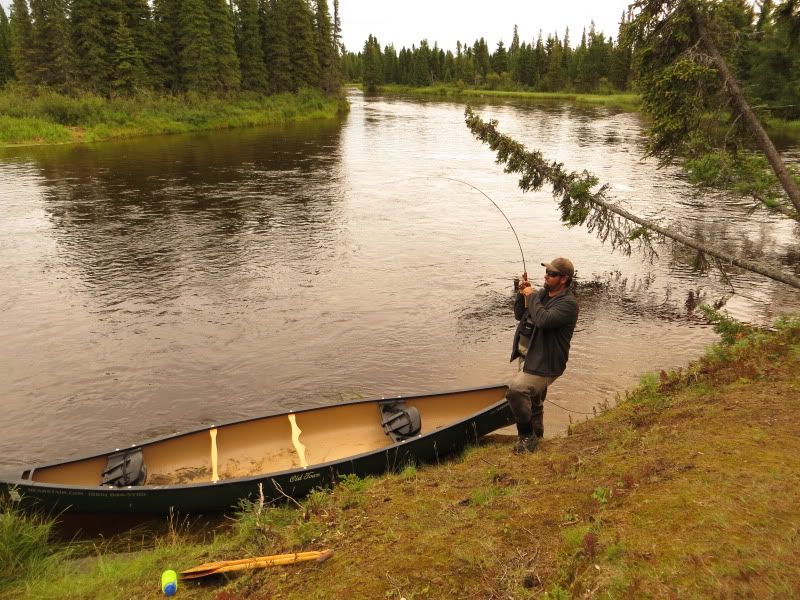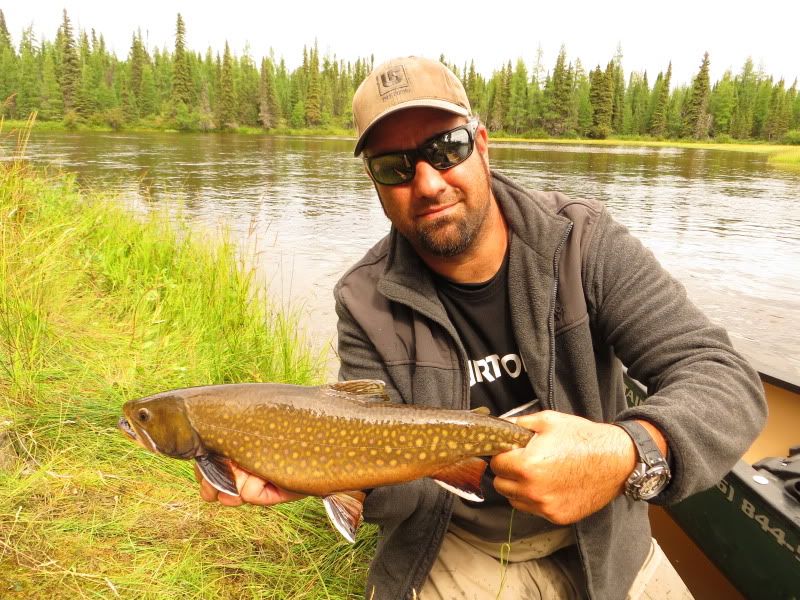 Crossing over to the other side we caught even more as we were able to wade far out into the shallow gravel.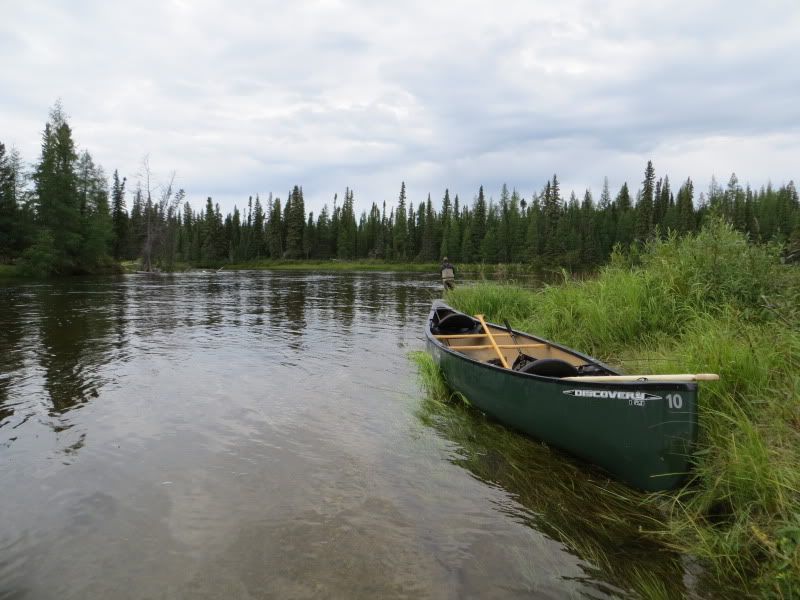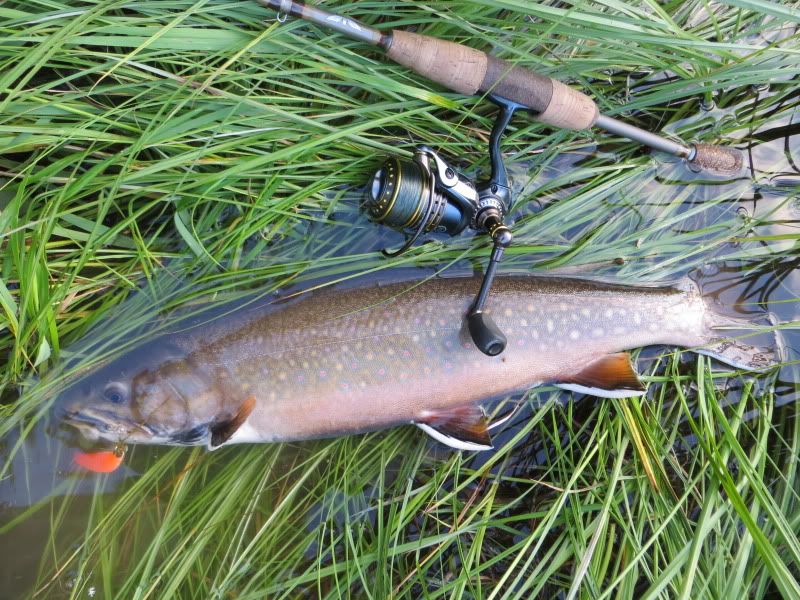 While over on the opposite bank something bizarre happened.
A freighter carrying two natives from Hawley Lake slipped down through the pool right in front of me. The younger lad in front was casting the seam I'd been working with what appeared to be a large white popper.
I stopped to watch as they drifted by and the kid fired his offering 3' in front of me.
Well if it wasn't a marshmallow with a large treble hook lashed to it.
"What the hell is that?" I laughed.
The older guy on the tiller says "Looks just like a mouse, trout hit them!"
At that point Bill uttered a sentence that I
never
thought I'd hear on this trip.
"Holy crap dude, I can't believe you were just greased out by some rube flossing fish with a marshmallow on the Sutton!!
Later in the evening after dinner I grabbed my spinning rod and followed a dim trail to another pool downstream around the bend. Casting from shore I bested another thick bodied male just as Billy appeared out of the bush to snap this picture.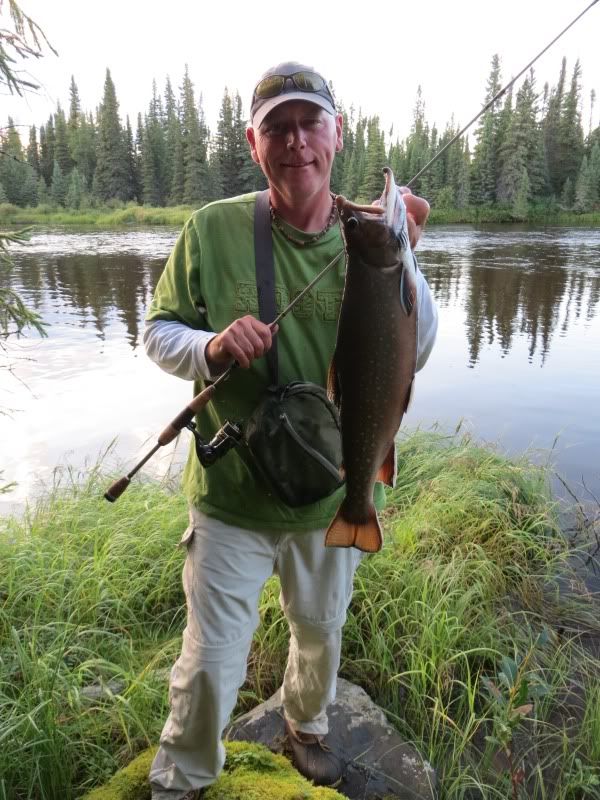 As the sun set we lit a warming fire, cracked a couple of cold beverages and watched as the stars slowly filled the northern sky.
A perfect end to our first day.
Day Two
The night was chilly, as it turned out one of the coolest of the entire trip, yet we were still up early enjoying the sunrise, coffee in hand.
Eager to begin our day we quickly packed, loaded our gear and began a routine which would be repeated often throughout the trip. We began to leisurely work our way downstream hopping out to fish in likely places.
At this point we still hadn't committed fully to the fly rod and many fish were caught on hardware.
In this first stretch we stopped to fish down around the corner from camp we probably hit 30 fish or so between the two of us before moving on. We were thrilled with the fishing, but little did we know it would only get better...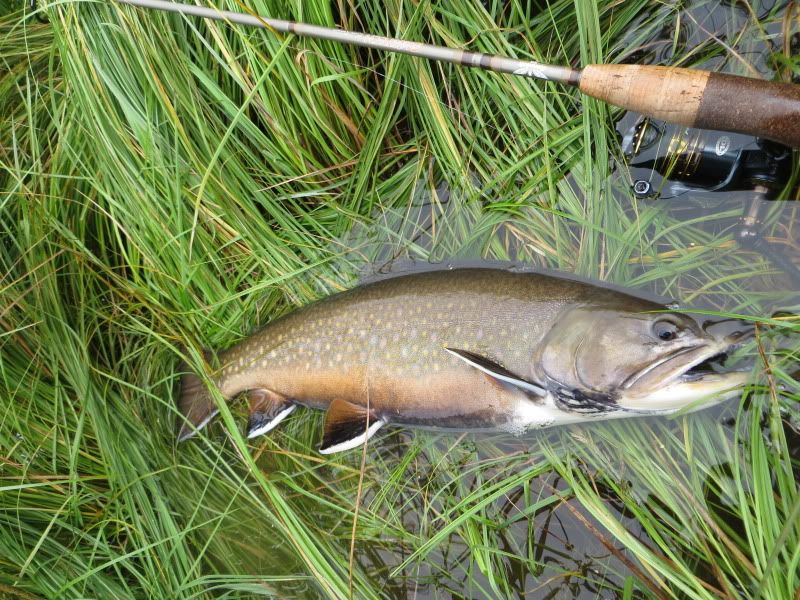 The day was quite warm, likely low 20's and mostly sunny. Still, every so often low banks of dark grey clouds would scud across the sky, the winds would pick up and the temperatures would drop. It was really quite amazing how changeable the weather was up there. If you weren't happy with it you'd only have to wait 15 minutes, possibly less and the sun would be shining again.
We were by and large oblivious to these minor nuances as we gloried in the landscape and the sheer joy of paddling with no portages.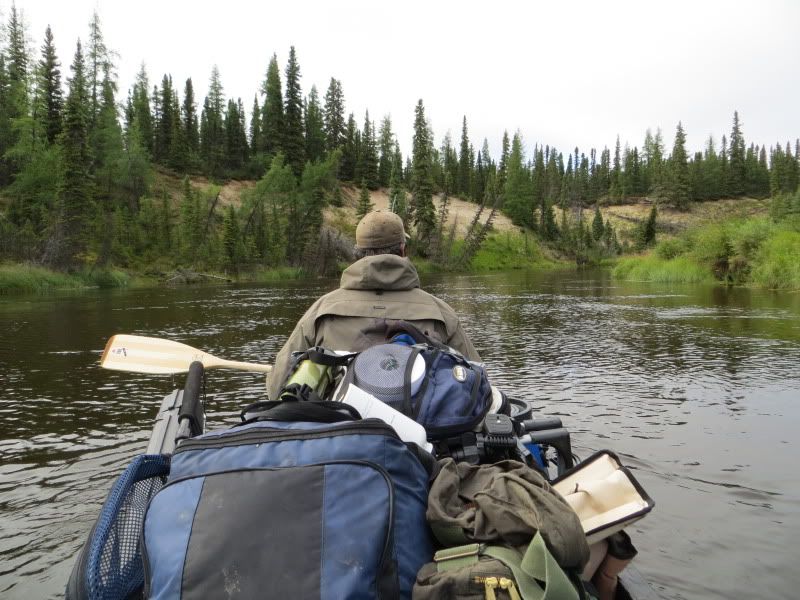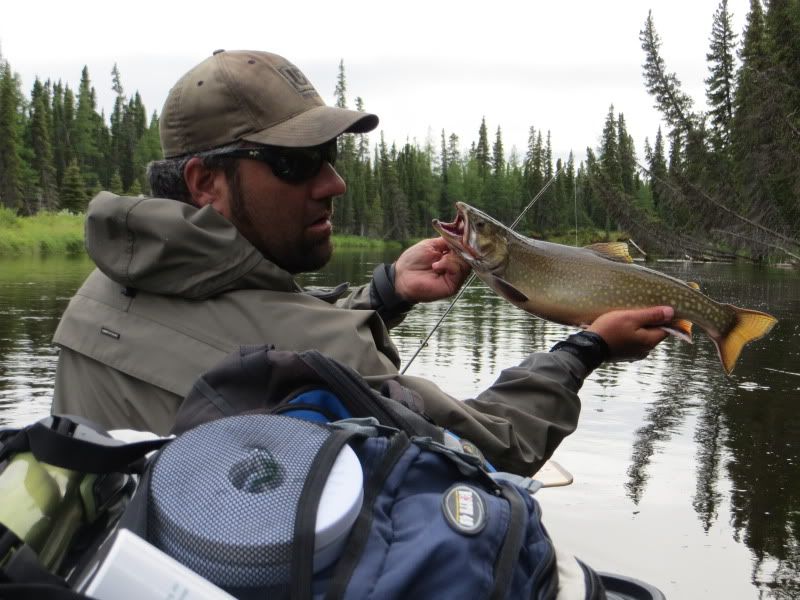 Around 2pm we navigated down through a turbulent stretch of rapids dissected by an island. Reaching the downstream tip the full force of the river compressed into a narrow, deep chute probably 5' deep in the middle.
Thinking in unison we pulled over to the side, hopped out in our waders and enjoyed our best session yet. The sun broke from behind the clouds, and swinging large streamers in the heavy water we enjoyed constant hook ups for a good two hours with many double headers.
Strangely I have no pictures of Billy fishing that run, although I'm pretty sure he outfished me. He played the photographer in this round.
Round about 4pm we we finally noticed the time and regretfully left this astounding spot. With no real idea where our next campsite would be we pushed on down the river anxious to make up some miles.
Not long afterwards the nature of the river changed completely, slowing down and becoming wider and deeper.
Of course we fished our way through, but the results weren't as awe inspiring. The trout were definitely holding in faster water.
Always on the look out for the truly perfect campsite we bypassed numerous second rate prospects and probably pushed downstream a bit further than we'd planned. At roughly 7pm I was becoming mildly worried when just as suddenly as before the pace of the river changed yet again, picking up dramatically. This was in my opinion the nicest water we'd seen yet, with kilometer after kilometer of classic riffle,runs and pools.
At 7:30 with the sun sinking lower into the trees we spied an opening high on the right bank at the tailout of a long pool and just above a gaudy little rapids. We pulled over to the grassy bank and hiked 20' up to a small clearing and we were home. A large tent frame made with spruce poles stood to the left. To the right was a huge cleared area, a giant fire pit and even a table. We instantly made the decision to layover 2 nights here as we were ahead of schedule, the site was perfect, and we appeared to be in a prime area for fishing.
With our long neglected stomachs grumbling we had the canoe unloaded quickly and set about erecting a truly comfortable camp.
I elected to set the tent up right inside the log structure, it fit perfectly. This allowed us to stretch our tarp across the roof supports creating an instant and super sturdy rain shelter.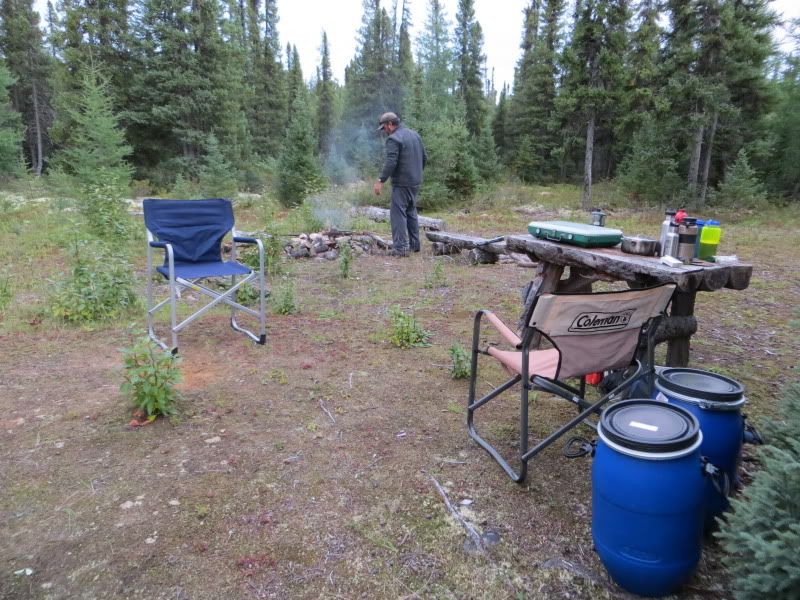 When the camp was more or less complete Billy ran down to the tailout in front of camp with his spinning rod and almost instantly ran back up the hill to show off a gorgeous little buck. Yep, not that we doubted, but there were plenty of fish once again on our doorstep.
That evening after a huge meal we once again stoked up a fire and whiled away a couple of hours nursing our drinks next to the blaze.
A satisfying end to a very long day indeed.
Day Three
It was a clear night and round about 3am we both emerged from the tent to relieve ourselves. Being shrouded in a bit of a haze I noticed nothing until Bill spoke. "Look up, is that ever cool!" Directly overhead luminous beams of light pulsated across the sky, shifting, growing brighter, then dimming again. It was ethereal. Seeing the northern lights had been one of Bill's hopes for this trip and it had happened.
When we arose 4 hours later at 7am an utterly perfect day greeted us. Bluebird skies, a light breeze, warm temperatures and no humidity. We luxuriated a bit around camp that morning enjoying a long drawn out breakfast and several cups of java before we finally hit the river.
Being a layover day I was in no rush to pull on my waders, but finally succumbed to Bill's excited yells from the riverbank. He had slipped down ahead of me and was catching fish after fish on the fly rod, some on dries.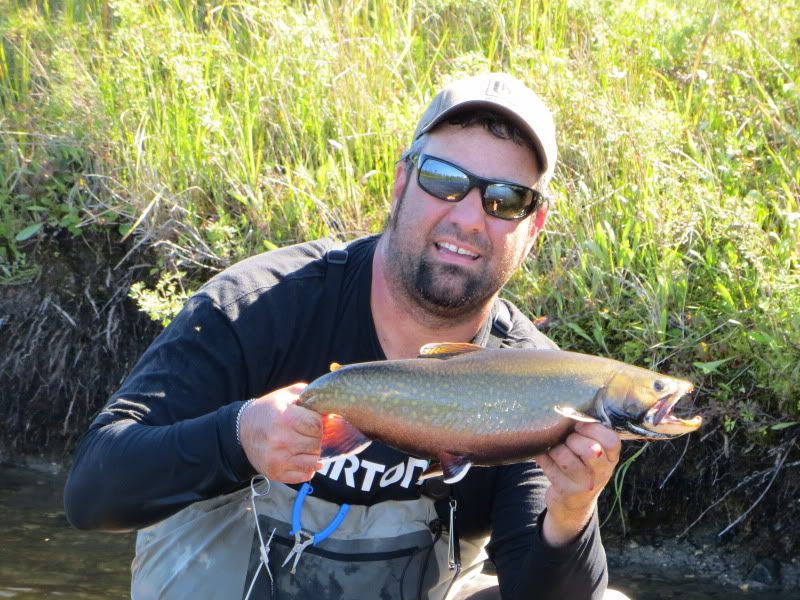 I quickly followed suit was soon into fish myself. The placid tailout in front of camp was literally teeming with fish.
Around 10am we switched gears and decided to head upstream in the empty canoe. Much of the river above us looked great and the evening before we'd quickly skimmed over it.
We paddled a good 2-3km's upstream, a difficult but not impossible task in the strong current. When the current grew stronger and the paddling more difficult we pulled the canoe up on shore and worked our way up the grassy bank on foot for another couple of kilometers fishing as we went. It was paradise.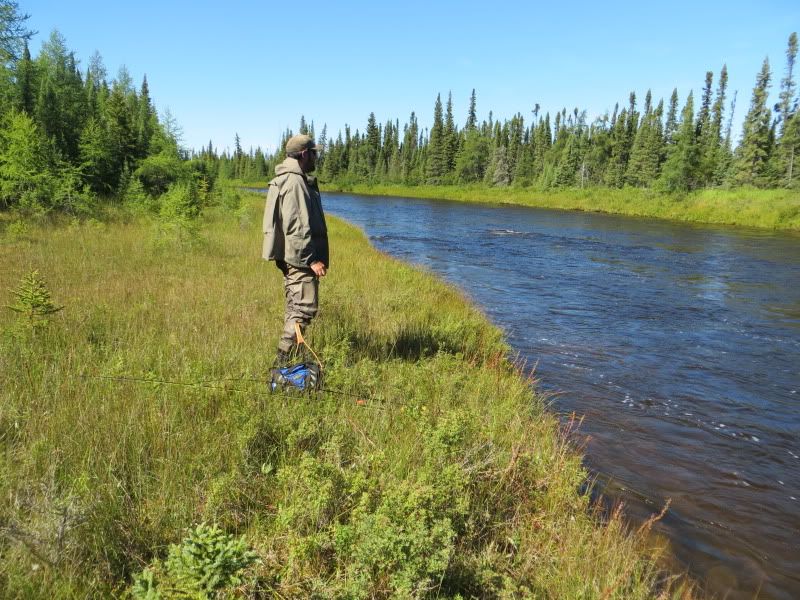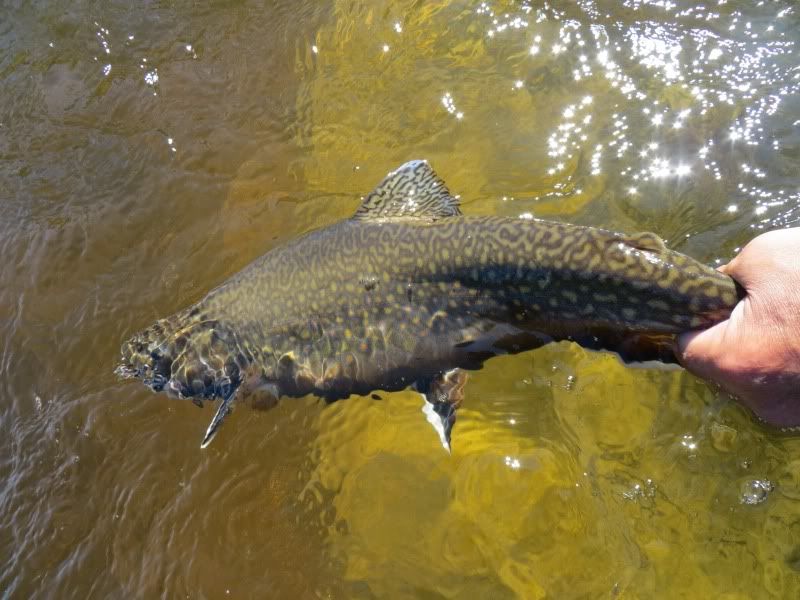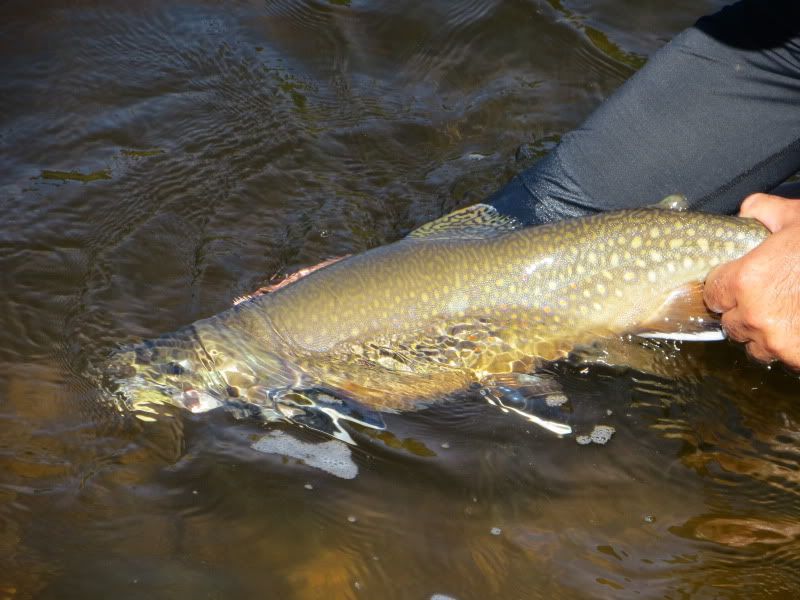 Upon arrival back at the canoe I hit upon a plan that would allow us to work the river thoroughly from the comfort of the canoe back towards camp.
I had brought a mesh bag and rope with me which I quickly filled with some heavy round stones creating an anchor. Tying it off at the stern we slipped slowly down the middle of the river anchoring then casting to seams on either side of the boat. Every 5-10 minutes I'd pull anchor and allow us to drift downstream another 100' or so before dropping the bag again.
It was a fun and relaxing way to fish and the big bonus was all the fish were on topwater mouse patterns. Some of the takes were heart stopping as huge brook trout would explode on our flies within 20' of the boat.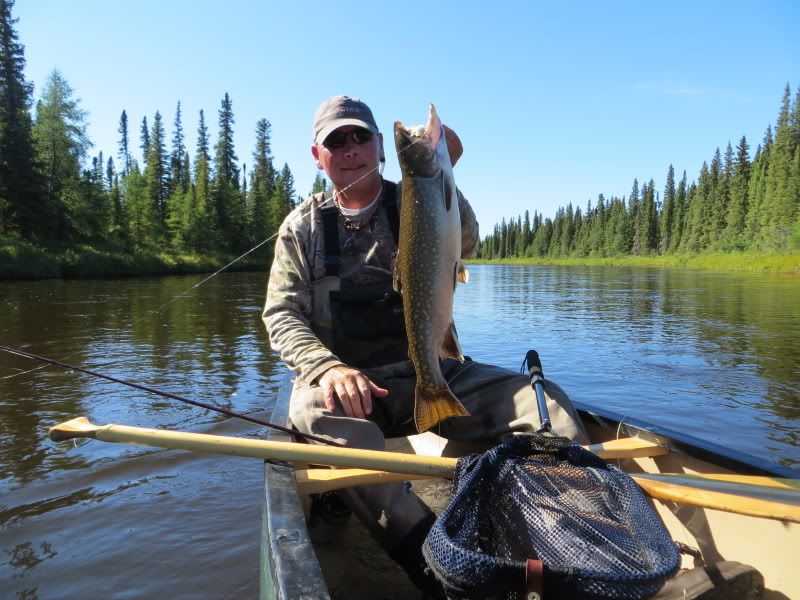 Back at camp we had an early dinner, relaxed a bit and savoured our great day.
That morning before fishing I'd filled a solar shower with water and hung it in a suitable tree. Being a sunny day it was the perfect opportunity, and man let me tell you did it ever feel good washing up after eating!
Initially we had no further plans to fish that day but around 7:30 I couldn't take it anymore. "C'mon man, let's put the waders on and go for a walk downstream!" We hadn't fished any of that water yet and it was beckoning us. Bill didn't put up much resistance.
The idea was we'd fish a particularly nice riffle and pool a couple hundred yards downstream from camp. You know what they say about the best laid plans though? We just kept walking and walking and walking. Every piece of water looked better than the last and we couldn't stop. You know how it is.
Without having to speak we were both making a beeline for a sharp bend in the river about 2km's downstream. It swung sharply to the right and we fully expected some incredible water down there.
Upon arrival it was surprisingly dissapointing being much shallower than we'd anticipated. After turning the corner the river broadened and flowed placidly over shallow knee deep gravel to a tailout several hundred yards downstream.
Still, this was the Sutton right? Armed only with fly rods we waded into the mild current and cast our flies to the darker seam on the far side. It was magic. If we didn't have constant double headers the entire time it was pretty darned close. In a fever pitch we'd wrench thick muscular brookies out of the current wanting only to unhook them as fast as possible. The take you see, is the thing. They were exhilerating. Arm jolting pulses of pure electricity as trout after trout smashed our feathered offerings.
It was at that point in the trip that I tweaked a muscle in my casting hand making things extremely painful for a day or two. Still I couldn't stop and it was kind of funny. Cast-"ouch that kills!"-got one! That process was repeated many times.
We were still catching fish non stop when the sun suddenly sank below the horizon and darkness fell. Kind of startled us actually as we were so engrossed in the sport that we were blind to everything else.
It was a somewhat sketchy walk back to camp along the grassy, alder lined riverbank. The moon was almost full though and in the clear northern sky it shone brightly illuminating the way.
We stumbled back into camp around 10pm tired but happy and quickly hit the sack.
Day Four
We arose to a carbon copy of the day before. We had won the weather lottery it seemed, and we wasted no time this morning packing up camp and loading the canoe. Both of us anxious to paddle downstream to the incredible gravel flat from the night before.
I have to admit we were a bit sad to be leaving our beautiful campsite, but that feeling quickly passed.
Upon arrival at the flat were curious as to whether the fish would be quite as cooperative as the evening before. I mean after all it was right at dusk yesterday. Now with the sun shining brightly on the gravel we had our doubts. Still it was the Sutton...
It took about 30 seconds to determine the presence of large numbers of trout as we immediately started smashing fish again, one right after the other.
We'd decided beforehand that today we'd take the time to shoot some video. It's raw and unedited, but I believe it gets the point across.
I'm not precisely sure how long we fished that flat or how many fish we caught, but at a certain point, happily tired and beat up from catching fish we knew we'd had enough. We hopped into the canoe and continued our trek downstream.
It's pretty hard to complain about any aspect of that morning on the flat. However if I had to reach it'd be the fact that all of our fish came swinging streamers. We did try surface flies on occasion, but the fish would have none of it.
Ubeknownst to us that issue would very soon be rectified.
Paddling downstream a few more kilometers the river made another severe bend to the left and an absolutely perfect textbook hole appeared. On the inside bank we spied Albert Chookomoolins outpost camp, a prospector style tent erected back in the trees overlooking the water.
He had mentioned to us that he sometimes brought guests downstream to stay overnight to fish the really prime waters.
It appears as though he picked a good spot.
We ferried over to the opposite shoreline and hopped out of the boat. Skating a mouse across the tailout Billy almost immediately hooked up.
I on the other hand continued to swing my Zoo Cougar streamer with great success.
After working the hole over we paddled several more kilometers downstream where we stopped again to fish another mind blowing bend pool. Standing in the rushing water at the head of the pool I caught fish after fish on the streamer.
Bill, sly dog that he is, sneaked downstream with mice on the brain. He soon began to whoop it up as one giant trout after another slurped in his rodent offering in the glass smooth waters of the tailout.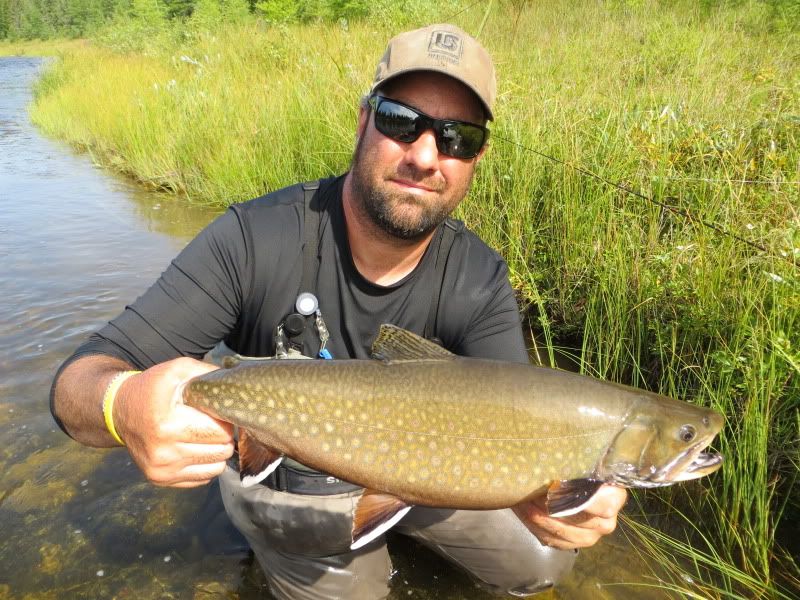 I finally joined the melee and captured a bunch myself on the mouse. There is absolutely no doubt that
nothing
I have ever experienced before tops catching giant brookies on the surface with mice. On the Sutton the trout are never shy, but when they smash a mouse they attack it with a reckless abandon, almost in anger. It's pure unfiltered lightning in a bottle and the takes, even though expected, make your hair stand on end.
Once again in late afternoon we'd lost track of time before realizing with a jolt that we had to move on. We still had some distance to cover and a campsite to find.
Pushing on downstream for several hours we enjoyed a leisurely paddle through some of the most awe inspiring country on God's green earth. The great thing about this river is the lack of hazzards. Paddling in the stern I'd often only have to use the odd correction stroke as rocks would be obvious hundreds of yards in advance. The current and Bill's brute strength mostly propelled us along at a dizzying clip. It was a pure joy.
What I've neglected to mention until now is the amount of eagles on the river, both Bald and Golden. They were
everywhere
and provided us with unlimited photo opportunities.
Of course we stopped anytime we came across a really enticing spot, and fish were caught everywhere...
With the sun sinking lower in the sky we once again raced to find a suitable campsite. Many possibles were nixed until finally at 8pm at the tail end of a large island we found a perfect grassy bank on the right side at the confluence.
In short order we pulled over, unloaded, and had a tidy camp set up just steps from the riverbank. We truly were becoming proficient at this. Nothing had to be said, we each knew our duties and we did it fast. We were finally a team.
Relaxing that evening around the campfire exhausted by the days events, never before has a pint of Guinness gone down so well.
Continued...
Edited by Mike Borger, 12 September 2012 - 11:52 AM.