A Spring So Far From TROUT to GAR!!!
It seems like an eternity has passed since last sitting down to write a report, days have truly been flying by...  April was a month I thought rather planned out until that fell apart, while May was expected to be time for a whole lot of whatever and it ended up being quite scheduled.  Winter trip ideas that had been brain-stormed for June walleye and pike, some July Slave guiding, and an August float in Northern Ontario all slowly vanished, and becoming rather late in the date what remained was one totally clean slate.  What will become of 2016...?
For starters, because of being away before and after the Christmas Holidays for work, Bren basically decided we needed a family trip... and as usual she was right.  We didn't let the girls in our secret but knowing if they had the choice, the one place on earth both would want to visit is Costa Rica.  They absolutely love it there.  After being in Nunavut, once settled back home we let our two in on the trip plan.  Excited was an understatement.
This time around instead of checking into an all-inclusive resort we rented a condo in Tamarindo for first week of April.  With access to a resort pools, infinite restaurants on the streets outside, the beach in view, shopping and tour operators all around us, and a hot tub on our deck, the plan was to try and lessen the trip cost without losing any luxuries and experience.  It worked some... although it was more work to make happen.  Prior to arriving in C.R. I had sold the girls on surfing which turned out to be their favorite entertainment day-in and day-out.  An ocean beach and waves popular with surfers world-wide allowed those two cheap fun while serving a more relaxing pace to Brenda and I.  Incredible dinners out each night, drinks, zip-lining, horseback riding, tubing, a jungle safari and a catamaran cruise rounded out the rest of our vacation perfectly.  Yet did I fish?  Yes!  Having packed a travel rod and 4000 series spinning reel I pulled a saltwater Rapala behind the catamaran for a couple hours on the last evening, until something crushed the lure and completely spooled my 30lb braid in less than ten seconds. Rooster maybe? Yellowfin? Will never know what actually caused my reel to smoke red hot.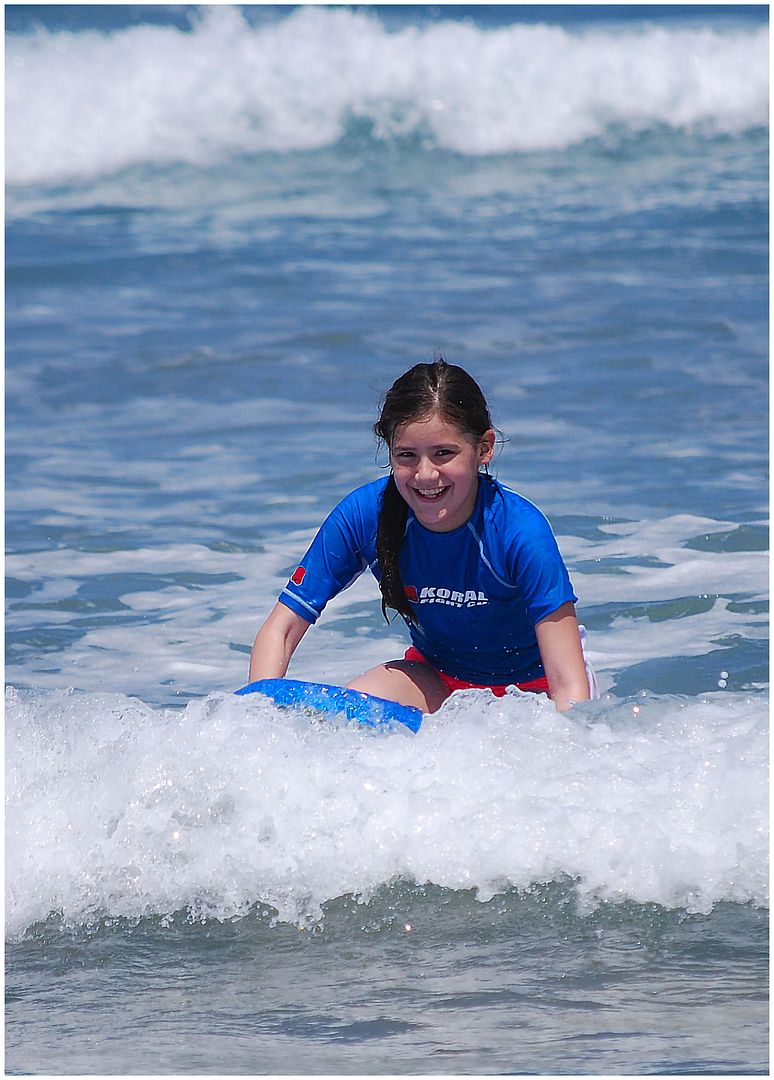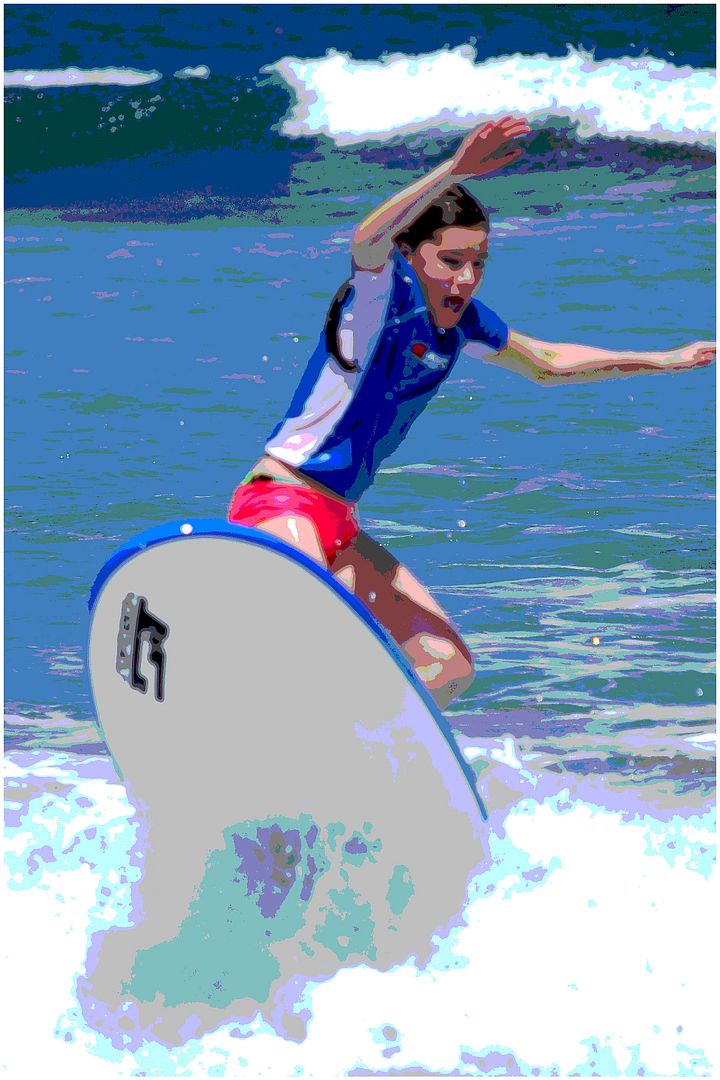 Home again the softwater season kicked off April 11th with a week that will be remembered for a real long time.  Starting with steelhead and finishing on lakers and browns, Lake Ontario provided three fine samples of some local trout.  The river run rainbow was definitely the favorite because she just tore me to shreds under rainy skies... but that broonie was a best for me too.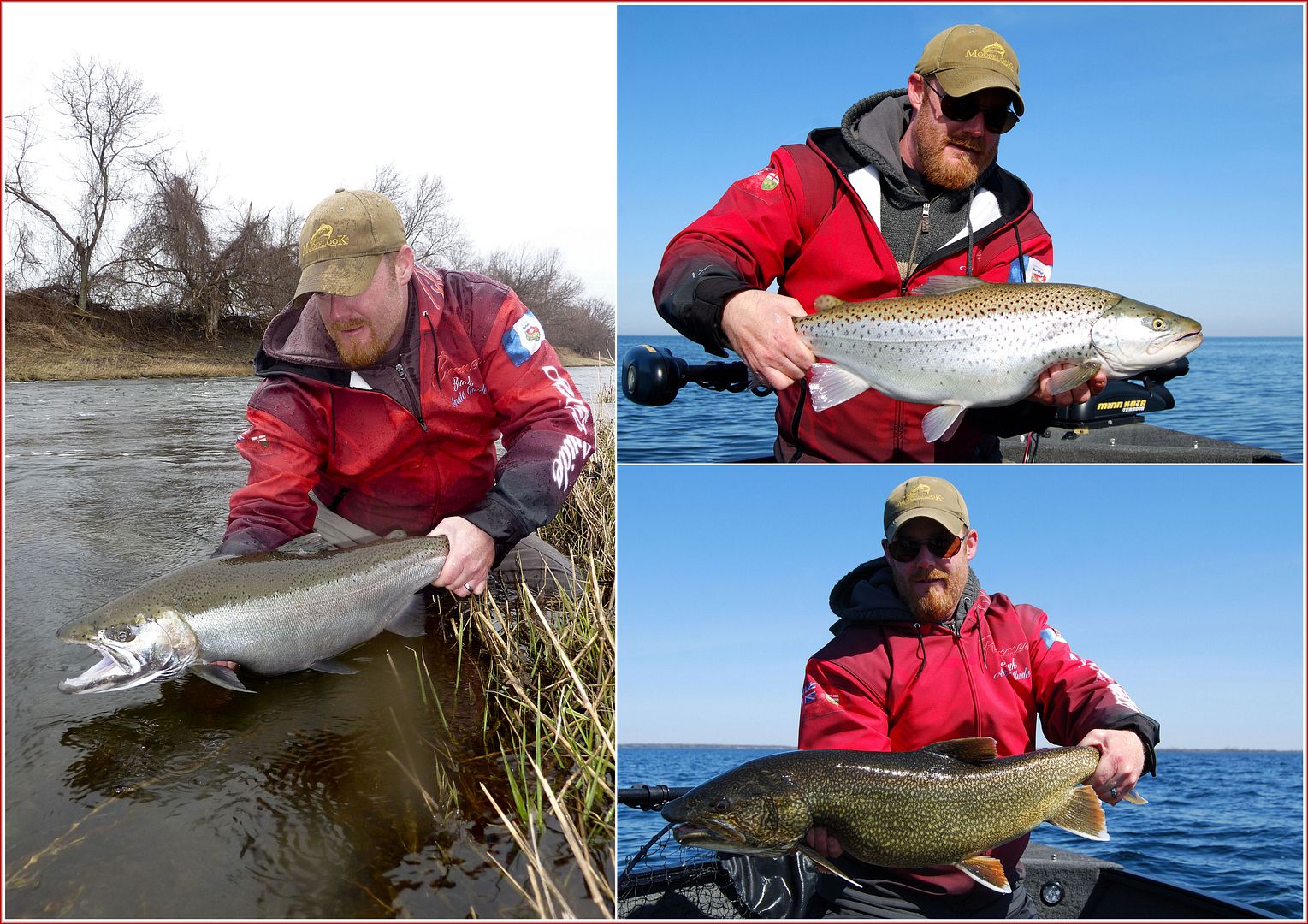 The thing of it all is that these were actually bonus fish.  Having put in availability for a few weeks to work in Nunavut, the only offer which came way suitable to dates was in Pangnirtung on Baffin Island.  Wanted it greatly but, while at a car wash with my phone in the truck I missed the call.  A little over an hour later I learned someone else just beat me to it.  Little was left to do to but fish the rest of the month, fish May, even fish June, and pick up some shifts in the local ER's while beginning to re-plan work, family and fishing times through the summer.
So casting away into mid May some oddballs and incidentals were caught, along with a few usual suspects which arrived with the different openers nearing end of the month.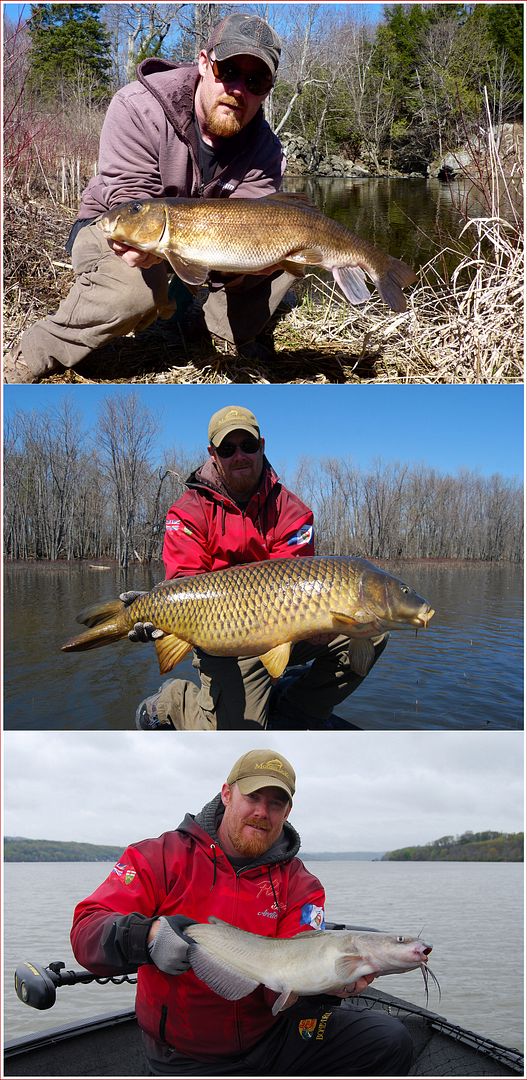 The time was hectic. Work around the house, a decent number of call-ins for ER work, preparations for new plans made mid June through to mid September, a fishing boat build project and, a friend's and my own 40th Birthday parties (with recovery), usual spring fishing days took a bit of a back seat to other life choices... 
Gar are always on the docket though.  Making time despite the windows fewer and far between, freakish spring weather and summer plans for other fishing fast approaching, even the average gar days fished will fall short this year in the quick season.  So, I'm making the best of the time I have...  When gar kicked into gear it was intense but short-lived, 50+ inchers a plenty and on track for a banner spring things suddenly slowed, and 2016 might likely go down as the year the gar game changed.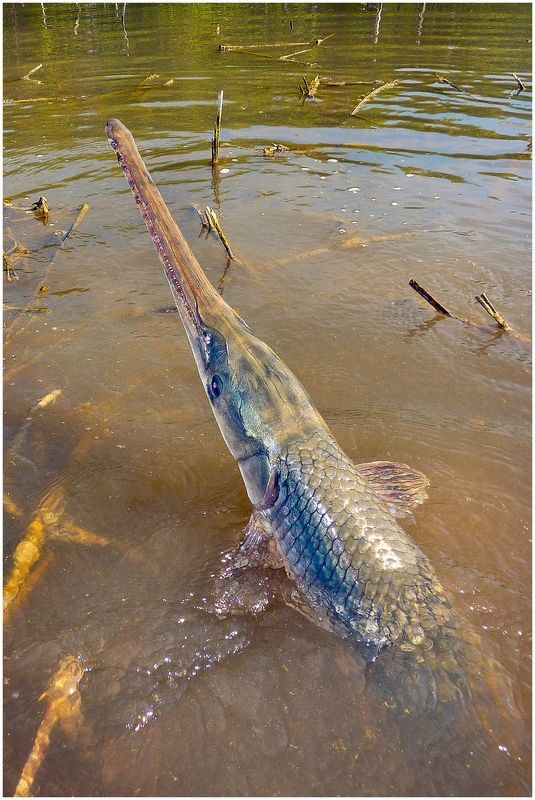 Just seven years ago when really starting to get into gar, the Ottawa River that I know of had but myself and three other buddies who were on the water regularly chasing after these fish. There might have been a couple other anglers but, on any given day I'd either see no one, or I'd see one of those three; and believe me, the schedule in May and June permits many days during those months off work, so I get out there plenty.  
This season it has been seven days, a couple solo and five with family and friends.  Many others now on the hunt, the fish are becoming more and more weary of boat traffic and the splash of a lure. The percentages of bigger gar which allowed greater opportunity in the past is dwindling, finesse and stealth becoming ever more necessary. This said, the numbers of fifty plus inchers I still see on any given day remains astounding, while that odd true giant of 55 and up holding girth is still a rare chance.  During the first solo outing which is usually more of a search, I luckily found fresh fish ready to play the game.
Day 1.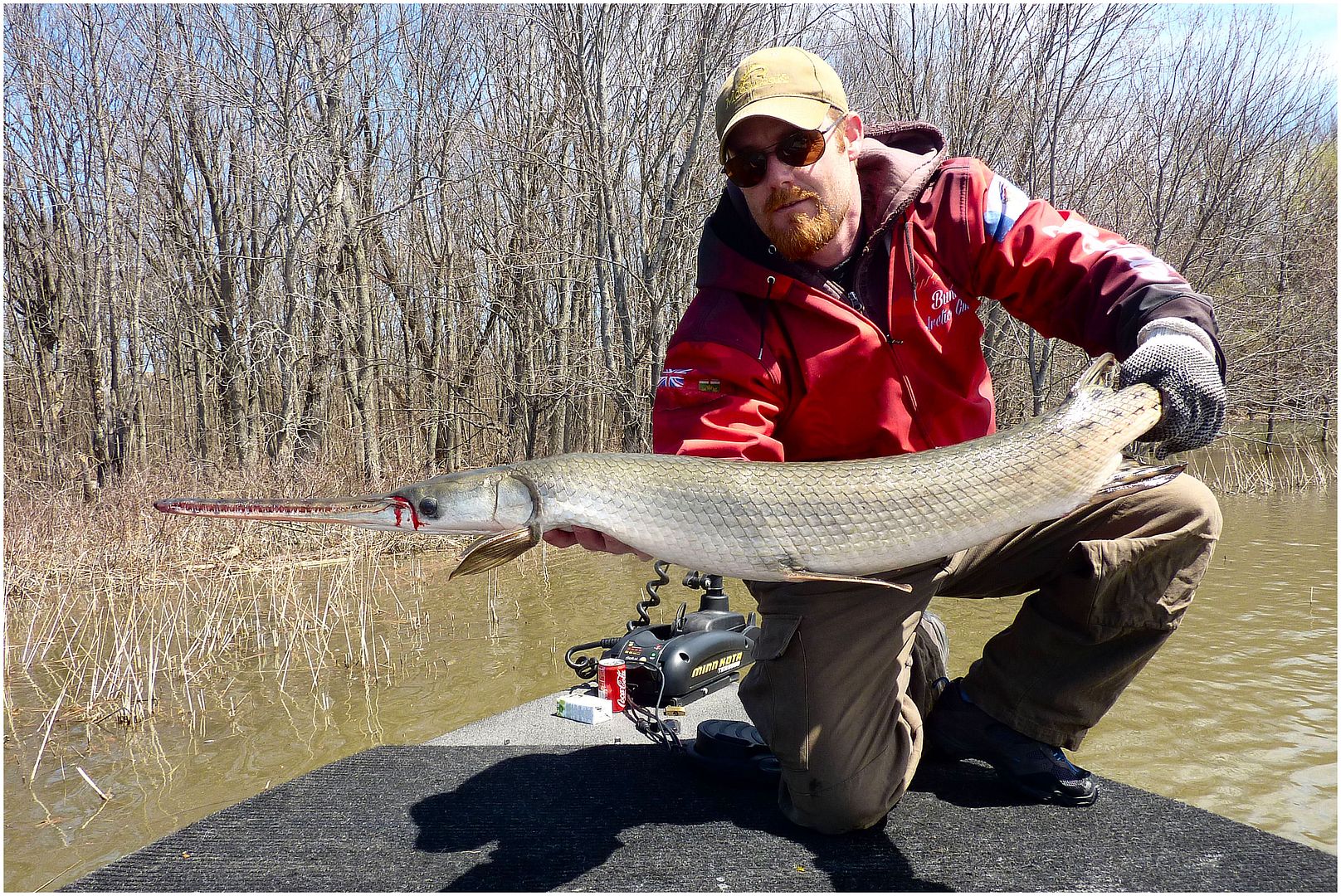 Day 2.
Bren joined up quick for the next outing.  She is always adamant about catching her own fish and as hungry as can be when it comes to wanting the biggest and best.  Gotta love that about her, as it's that same pride and drive to succeed which she lives by.  And to mention, she is the best mother and wife anyone could ask for, with some serious big fish experiences of her own to brag about as well...... although, she never does..?
Day 3.
A most welcome guest drove from Kingston to grace the Lund.  I had told my friend Doug that it was going to be a great day for gar.  Calm, sunny and the weather warming up nicely in the afternoon, it looked too perfect.  Well, it wasn't quite case. Night before temps dropped to frost and that pushed gar deeper.  Our time on the water they were quite slow to come back shallow and the few which did stayed a little deeper in the low-vis waters.  We fished shadows, guessing at our fish and sizes and, we stayed in one area reluctant to move around the river much as many other gar hunters were out and occupying other spaces.  End of the day though, Doug was surely satisfied with his initiation to this unique little fishery. He'll be back.
Day 4. 
A childhood and lifelong friend, Steve and I both had our 40th Birthday Parties back-to-back this year.  We see each other a couple times annually, and because he lives in Ottawa now I think a gar day for the two of us should be scheduled for every spring.  In the past we worked together, golfed and fished, played a little in a band, and were always hanging out.  Distanced for years we never had to try to keep a friendship going as it just did on it's own.  We've grown up together on a parallel wave length I believe, and he gets that too.  What he also gets, is a kick out of the gar every time we end up fishing them.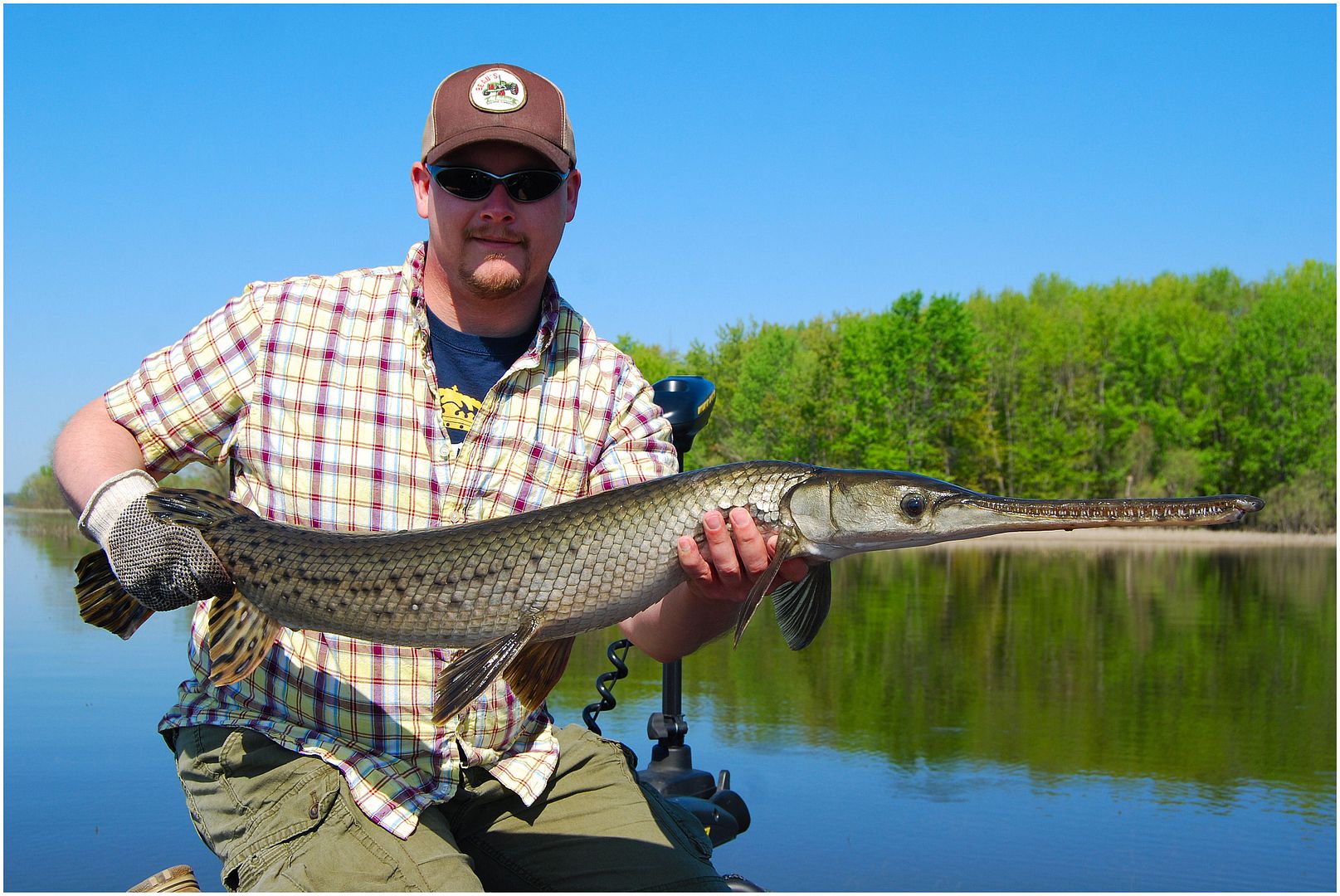 Day 5.
A day off school for Leah and Summer at work, I told her she had no choice but to come along.  The girls for the moment just aren't that into fishing.  Summer lost the Tom-boyish way probably three years ago, and now Leah a same pre-teenager Summer was then, she too would rather do "girly" things.  But on this day Leah had fun despite the fishing being super tough due to gusty winds, some cloud, and the most skittish gar ever seen.  I made a choice after an hour or so fishing the usual haunts to just go explore new waters and secondary spots. The kiddo liked that, and in the process reeled in a few fish that weren't scared shiznitless of us cruising by.  On the way home she was grinning happy and thanked me for the fun day fishing. Maybe there's still hope?
Day 6. 
Better late than never, my friend Simon slid on into the boat one cold and windy morning for what may be the last day fishing gar for my season.  An annual trip, from southern Ontario Simon has been coming all this way for a visit the past few years now, for his will to fish gar each spring cannot hold him back.  When finding fish Simon will cast at anything. He knows I'm usually good to give him a couple smaller ones early, but after accomplishing that it's urged we move on to the big girls. Yet... he just loves to cast at 'em and I have to remind myself I get to do this all the time, whenever I want. Simon enjoys a day or maybe to a year, and needs a much faster big gar fix. With that approach and perspective, we actually ended great on a tough weather gar day.  Big and small fish and plenty of 'em.
Day 7.
At some point throughout the month there was a banner day.  A couple guys canceling out on the gar fish I went it alone.  The first hours on the water were absolutely terrible, the fish hardly around or real jumpy.  Finally when that midday sun got high and the heat sweat the brow, the gar rose to the occasion.  Over a short few hours five fish over 50-inches came topside, one almost being my longest fish to date at 55.5 inches.  It was an awesome specimen although she had not a bit of girth, being absent eggs and a belly of fish.  Longer than the current and new record holding fish at only 51-inches, she would have been a serious contender... ahhh well.  Snapped up some pics of a few but lost two over the bow while setting up for the shots.  In fact, this year I had a terrible time with fussy gars getting the step on me and escaping the boat.  Twice with Leah, once with Bren, two more times on my other solo outing and twice this day, they weren't just spooked in the water, they wanted no part of usual procedure.
As each year passes, gar fishing for me personally loses a smidgen of its luster. They are fun and enjoyable don't get me wrong, and probably the best thing going during their certain season, yet the hunt is becoming more a feeling of been there and done that, and big fish including Ontario Record breakers have already been caught again and again. Much time and stock is usually put into the season while some other things have been missed because of it. Thinking next year to maybe break it up with a fly-in north for pike and eyes, like in the past days.  Since my gar beginning I have fished local waters more and harder than anyone known, and it's either wearing off or wearing me out some.  Other than the real big, pound for pound these fish are actually kinda wimpy, but the hunt, chase and the initial take remains the excitement of it and man, they are gnarly looking beasts.  Still fun overall!  For me, honest, genuine and shared experiences with my girls, with others, and to a lesser degree out there hunting solo, are the gar moments and memories worth fishing them for, and why it will always continue.
Continued...
Edited by Moosebunk, 12 June 2016 - 09:36 AM.